SKOPJE — About 200 supporters of Macedonia's nationalist VMRO-DPMNE party stormed into the parliament in Skopje on April 27 after an alliance of Social Democrats and ethnic Albanian parties approved an ethnic Albanian politician as the speaker of parliament — despite a monthslong political crisis over the formation of a new government.
RFE/RL's correspondent in Skopje has confirmed that the protesters severely beat Social Democrat leader Zoran Zaev, the head of a proposed governing coalition that includes ethnic Albanian parties, and at least one ethnic Albanian lawmaker.
The demonstrators — some wearing masks — were not confronted by security as they jumped over the barrier outside parliament.
Once they reached the entrance foyer inside the parliament building, they fought against heavily outnumbered police to force their way further inside.
Police reinforcements entered parliament after the violence broke out, but authorities did not immediately attempt to suppress the protesters.
RFE/RL's correspondent inside the parliament reports that the demonstrators damaged doors inside, stole the mobile phones and cameras of journalists, and advanced into a press room where Zaev and ethnic Albanian members of his proposed coalition were conducting a press conference after Xhaferi's election as parliamentary speaker.
Zijadin Sela, leader of the Albanian Alliance, was among the lawmakers injured in the violence.
Blood could be seen streaming down Zaev's face as scuffles broke out between his supporters and those of former Prime Minister Nikola Gruevski's VMRO-DPMNE party.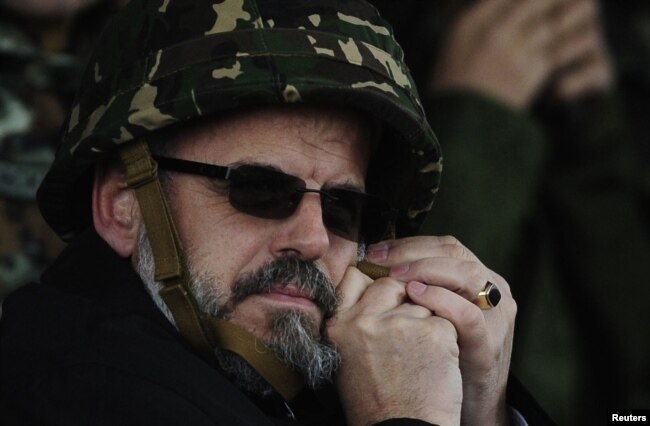 European Union Englargement Commissioner Johannes Hahn condemned the violence, saying in a tweet on April 27 that "violence has NO place in Parliament. Democracy must run its course."
Meanwhile, Sweden's ambassador to Macedonia, Mats Staffansson, issued a statement on behalf of other European diplomats to remind Macedonia's politicians of the need to resolve political disputes through dialogue.
Staffansson said: "It is the responsibiity of the police of this country to make sure this kind of violence does not happen."
Demonstrators have taken to the streets of Skopje repeatedly during the past two months to protest against the proposed governing coalition, saying the inclusion of ethnic Albanian parties is a threat to the country's national unity.
The VMRO-DPMNE — which won elections in December but failed to build a majority coalition — has, for weeks, successfully blocked Zaev from enacting a coalition deal that he reached with the ethnic Albanian parties to form a new government.
The protesters have praised President Gjorge Ivanov – a member of the VMRO-DPMNE — for refusing to give Zaev's coalition a mandate to form a new government, even though it holds a parliamentary majority.
Xhaferi is the first ethnic Albanian to be elected as parliament speaker in Macedonia since the country declared independence from Yugoslavia in 1991.
VMRO-DPMNE lawmakers challenged the legality of the April 27 vote, saying it was not carried out electronically because the parliamentary session had formally ended.
About one-quarter of Macedonia's population of 2.1 million people is of Albanian descent.
Macedonia narrowly avoided civil war in 2001 after an uprising by armed ethnic Albanians who sought greater rights.
With reporting by AP, AFP, and Reuters